The Kuju Mountain range is one of the most spectacular regions on the island of Kyushu in southern Japan. Hiking to Mount Kuju and the surrounding peaks was one of my favorite adventures of my three week trip around Kyushu Island. In this blog post, I'll share all of the details you need to know to enjoy a great day out hiking to the top of Mount Kuju and the other peaks in the region.
The stunning Kuju Mount range is part of the Aso-Kuju National Park and while Mount Kuju might be the most famous it is actually the nearby Nakadake Peak that is the highest peak in the park, which makes it the highest point on Kyushu Island. These mountains are connected by a series of hiking trails so you can kind of make it up as you go, pushing on to 'one more peak' time and time again or follow a set route. I did a bit of both.

KUJU MOUNTAIN RANGE HIKE DETAILS
Hike Distance: The total hike distance for me was 12.2km return trip.
Hike Duration: The total moving time was just under four hours but if you take stops, photos and rest here and there you can bargain for 4-5 hours.
Hike Difficulty: This hike is not difficult nor dangerous but the vertical kilometer of incline may trouble some people. Twelve kilometers and 1000m of incline is no easy outing.
Hike Incline: The total hike incline was 1,026m.
HOW TO GET TO THE KUJU MOUNTAIN RANGE PARKING LOT
There are two major trailheads to access the Kuju Mountain range, which are Makinoto Pass and Chojabaru Visitor Center. I believe Makinoto Pass is more popular for those doing an out and back and is where I began my adventure. Chojabaru seems to add slightly more distance to the overall hike. The Makinoto Pass Rest House is quite big with about 100 spaces in the parking lot, a small cafe, an information booth, and toilet facilities. I went on a weekend and it was packed full of Japanese hikers decked out in the top of the range hiking gear ready to explore!
I will attach my trail map below, which not only shows you where we began but also the route I took out on the trail in order to summit Nakadake Peak and Mount Kuju among other peaks in the region all within 12.2km. There is also another map that I will add to the bottom of this blog post that adds a bit more context as well.
MOUNT KUJU TRAIL MAP (NAKADAKE PEAK AND MOUNT KUJU PEAK)
I've also attached my hiking map, which I recorded on my Garmin during the hike. If you want to download that map as a GPX file you can download it by clicking here.
MY EXPERIENCE HIKING IN THE KUJU MOUNTAIN RANGE
With one trail map to follow, I decided to begin my hike from Makinoto Pass. I arrived at around 2:30pm, which made me one of the last hikers to be heading out for the day with the majority of those on the trail heading back while I was heading out. It wasn't a mistake, I was trying to be up and about out on the peaks or somewhere sweet while the golden light swept through the Kuju Mountain Range.
The trail I had in mind was a bit of a loop mixed with an out and back. I wanted to summit Mount Kuju and Kyushu's biggest peak, which is Nakadake Peak. I figured I'd explore anything else while I was out there. My plan went pretty well but I could have done with an extra hour or so given that I kept adding on new peaks to the agenda.
From Makinoto Pass rest house the trail begins with cement stairs that guide you up to the ridge, which is essentially where the actual hike begins. Lots of tourists just go to a couple of viewpoints on the way to the ridge but there isn't too much to see until you really get out to the end of the trail near Mount Kuju and Mount Nakadake so I wouldn't head out all the way just to walk 500m to the viewpoint aside the stairs but each to their own.
It's straight up from the get-go so don't put too many jackets on you will be working that incline straight away. Once you reach the ridge it's time for the adventure to start. The trail turns into a rocky ridgeline with a number of ladders and some very low-key bouldering required. I did the Mount Kuju hike in winter so it was very muddy and the leaves were all dead. I imagine the hike would be more beautiful in the summer or fall seasons with lush green or fall colors. Nevertheless, it wasn't a color of leaf I was out here for it was the adventure, the hike and to see what life looked like from the top of a few peaks out here on Kyushu Island in Japan.
This trail was popular. I think we would have passed about 100 people on the trail out to the base of Mount Kuju. In true Japanese politeness, literally every single person said hello (Konnichiwa). There aren't many countries in the world where you will have a 100% hit rate with the return of a hello. Good on ya' Japan.
It takes about 3.5km to leave the defined trail area and head into the mountainous sector where you start to get some cool views and you can make your plans of what peaks are on the menu. On the right, you have Mount Kuju (1786m) and on the left, you have Nakadake and a number of other connected peaks. I decided to hit Nakadake (1791m) first while collecting a number of peaks along the way and then mission out to hike up Mount Kuju during golden hour. You can't do a perfect loop and need to backtrack somewhat as you can see on my map above but more or less you can do a bit of a circuit once you get over the initial hill near the Kuju Shelter.
So my route was to first head out to Mount Nakadake. On the way, we passed a frozen lake. It was actually pretty strange because it was already cracking/melting on one side but lots of Japanese hikers were running around on it and taking photos. I'm no ice expert but that's not an ice rink worth skating on!
We then continued on towards Mount Inahoshi for no real reason other than why not keep exploring. The Kuju Mountain Range is a bit like that. Every time you reach a peak you see a trail leading off in another direction to the next peak. It was starting to get really cold and Pema was patiently dealing with my game of 'which peak next'.
After Inahoshi, it was finally time to head up to Mount Kuju, the namesake of the entire range. By this point, we had already put in some solid incline. The total day of climbing was 1,026m so it's always an effort when you grab a vertical kilometer. The trail was rocky but quite well defined and we never had too many difficulties finding our way. At the top of Mount Kuju we could watch over the erupting Mount Aso in the distance and admire the valley below.
The hike back was up there with my favorite moments of the trek because we had a stunning golden hour during our journey back that was doing it's best to light up the peaks orange as the sky slowly faded.
We ended up making it all the way back to the last part of the ridge aided by only the moonlight but then we ripped out our head torches to assist us on the final couple of kilometers till we returned to the parking lot. We turned around at one point and saw a few more lights out on the trail so we weren't the only sunset chasers but out of the hundreds hiking that day we were definitely the minority. The parking lot stays open without a gate being locked or anything so you are good on that front.
Happy hiking and I hope you enjoy this beautiful hike and this stunning region of Kyushu Island, Japan.
KUJU MOUNTAIN HIKING TRAIL MAP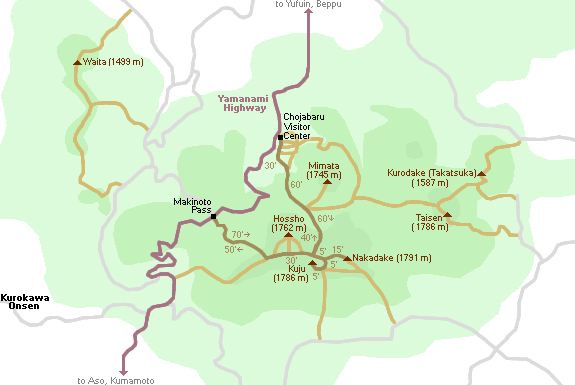 KYUSHU TRAVEL TIPS
WHICH REGION IS BEST FOR YOU?
Here's a checklist for you to start:
Fukuoka: If you want to be in a vibrant city scene and a central base, you may want to stay in Fukuoka.
Kumamoto (my pick): If you're looking to get away from the bustling city life and be centrally positioned for all hotspot tourist locations then visit and stay in Kumamoto.
Beppu: If you want to check out a lot of hot springs, mud baths, and sand baths, Beppu in Oita prefecture is the best place for you.
Kagoshima: If you are eager to go hiking in Kirishima and see Mt. Sakurajima, head to Kagoshima prefecture.
Yakushima (Separate Island): If you want to hike through the stunning Shiratani Unsuikyo Valley, see ancient cedar trees, and waterfalls, Yakushima is the best place for you.
For a full article about how to split up your time between the popular regions in Kyushu, check out my guide about how to plan your Kyushu Itinerary: THE ULTIMATE KYUSHU ITINERARY: 5-DAY, 7-DAY & 10-DAY
WHERE TO STAY IN KYUSHU
Best Luxury Place to Stay in Fukuoka: Hotel WBF Grande Hakata (Value): This is by far the most popular hotel and one of the most luxurious in Fukuoka. There are a large public bath and an open-air bath on the top level of the hotel where guests can relax and enjoy the views.
Best Value/Budget Place to Stay in Fukuoka: WeBase Hakata Hostel (Budget): This stylish hostel offers a wide range of dorm-type rooms with shared bathrooms, sockets, and safes for your belongings. They also have a kitchen, a terrace, and is within walking distance to convenience stores, a subway station, ramen shops, and sightseeing spots.
Best Value Place to Stay in Kumamoto: Hotel The Gate Kumamoto (Value): Hotel The Gate is a well-situated accommodation in the heart of Kumamoto, just across the train station and walking distance to shops and restaurants.
Best Budget Luxury Place to Stay in Kumamoto: Kumamoto Hotel Castle (Luxury): Set near the infamous Kumamoto Castle, this luxury hotel features a wide range of carpeted rooms from standard rooms to suites fitted with plush amenities.
For a full list of the top-rated places to stay in Kyushu, you can check out my comprehensive guide: WHERE TO STAY IN KYUSHU: BEST REGIONS & HOTELS
HOW TO GET AROUND KYUSHU FOR ADVENTURERS
While the train may suit those in Tokyo, Kyoto, Osaka, and even in Fukuoka, it won't cut it out here on Kyushu. The trains will get you from major towns and even into some regional areas with bus connection but almost all of the adventure sports I visited had no bus connection. When I searched on Google Maps and clicked the public transport option it would just say 'not available'. It was very clear, very quickly that Kyushu island is best to explore by car, especially if you are doing hikes and activities outside of the city (literally everything on this list).
Renting a car wasn't too expensive and I did it through RentalCars.com, finding them to be the best-reviewed and had the cheapest options. I flew in from Tokyo so picked the car up from Fukuoka Airport and dropped it back when I was done. If you click on RentalCars.com and then search to pick up at Fukuoka Airport you should find a range of options. I got a very small car as it was cheap but it turned out very handy as the narrow roads of Japanse suburbs where my Airbnb was made it impossible for big SUVs. There was also no time that I needed to be off-road or anything like that so a small, fuel-efficient car made it cheap and convenient.
*** It is extremely important to know that you MUST HAVE an international driver's license to rent a car in Japan. In fact, they won't even look at your actual driver's license and only want to see the international driver's license. Take that seriously as they genuinely will not give you the car and likely no refund if you don't have that. To get one you need to be in your country of residence and you can get one on the spot or order online and receive in a week or so. Make sure you organize that in advance as I almost got caught out not knowing that.
Here is my little blue whip that I rented on RentalCars.com
ARE YOU FOLLOWING MY KYUSHU BLOG SERIES?
I spent over three weeks exploring Kyushu and visited some incredible waterfalls, hiked some amazing trails, and visited a number of epic volcanoes. I created a number of guides to help travelers find the best spots in Kyushu. You can explore the articles by clicking on the links below.
The Ultimate Kyushu Bucketlist: 30 AWESOME THINGS TO DO IN KYUSHU
A guide to the best places to stay in Kyushu in each region: WHERE TO STAY IN KYUSHU: BEST REGIONS & HOTELS
How to plan your Kyushu vacation: THE ULTIMATE KYUSHU ITINERARY: 5-DAY, 7-DAY & 10-DAY
Interested in chasing waterfalls?: 12 AWESOME WATERFALLS IN KYUSHU
Keen for some epic hiking?: 11 AWESOME HIKES IN KYUSHU
Everything you need to know about Oita: 11 AWESOME THINGS TO DO IN OITA
Your Ultimate Guide to Kumamoto: 13 AWESOME THINGS TO DO IN KUMAMOTO
My favorite waterfall in Kyushu: TAKACHIHO GORGE – MOST BEAUTIFUL WATERFALL IN JAPAN